Begin New and Returning Student Registration
Need help?  Contact us at registration@wftigers.org, and one of our staff will help you complete your registration.
West Fork Schools uses the PowerSchool Registration Module provided and configured by the State of Arkansas.  While this system streamlines adding information into the student management system, it is not without its challenges.  It is because of these challenges that we are providing this companion page.
In the sections below, you will be guided through completing the PowerSchool Student Registration while also gaining much simpler access to some of the information requested throughout the registration process.
Each question will be explained on this page, so we recommend keeping this page available while completing the registration process.
DO STEP 1 BEFORE CONTINUING AT THE BOTTOM OF THE PAGE!
All three steps MUST be completed for each student.
Step 1: 2023-24 Forms Packet
**Required for both new and returning students**
To begin, we will have you complete all of the state required and district forms in one combined packet.  When you click the icon below, you will be taken to West Fork Schools' pdfFiller form.  This site will walk you through completing and signing each page of the document.  
Once you have completed that process, please return to this page and continue to Step 2.  
**Please note:  This is not the full registration process!  You MUST continue to step 2 after completing the forms packet.**
When you get a screen that looks like the one below, you can choose to send a copy of the completed packet to your email, download a copy, or just click "Continue" to be taken back to this page. 
**Please note:  When you click the "Continue" link on the page below, you will be taken to the Free and Reduced Meals application.  While this is not a required form, we ask that all families complete ONE application for their household.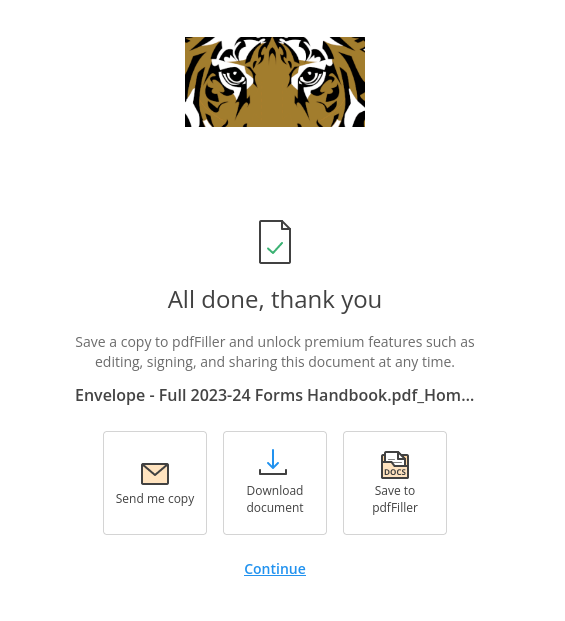 West Fork Schools now offers online payments for things like computer protection plans, parking passes, supply fees, and more. Below you will find some common choices for online payments as well as a link to our online store homepage.
Please note… At present, purchasing the computer protection plan and a building level item (such as a parking pass or a supply fee) requires two separate payments. We hope to resolve this in the future.
You will have to create an account within the store to complete your purchase.
You should be able to search for your student during the checkout process.
You will also be able to pay with cash/check/credit card at your school's open house.
All links open in a new tab, so you can return here for easy navigation.
Chromebook/Computer Protection Plan – You can purchase for multiple students at once. If you would like to do so, add the "First Student" option to your cart, and then add as many "Additional Student" as you may need.
Middle School Student School Supply Fee
Elementary Student School Supply Fee
Step 3: PowerSchool Student Registration
PowerSchool is not owned by or managed by West Fork Schools, so it is unlikely that we will be able to provide detailed support in the event of a technological issue. If you experience problems with registration, PowerSchool has a dedicated family support phone number and chat line. That information is as follows:
PowerSchool Family Support Phone: (866) 434-6276
PowerSchool Family Support Chat: Click Here
Of course, you can still reach out to the school at (479) 839-2231 or by emailing support@wftigers.org, and we will do our best to help you through the process.
Let's Begin
Please start by choosing either "RETURNING STUDENT" or "NEW STUDENT" below.
**Please note: If your student DID NOT attend West Fork Schools LAST YEAR, they will count as a new student, even if they have attended West Fork
Schools in the past.*